You can always rely on shrimp to make a delicious weeknight dinner. From shrimp avocado salad and shrimp in chermoula sauce to shrimp cakes, there is always something tasty that you can whip up in no time with shrimp. This shrimp kabob recipe is one of our recent favorites and I bet you're going to love it too.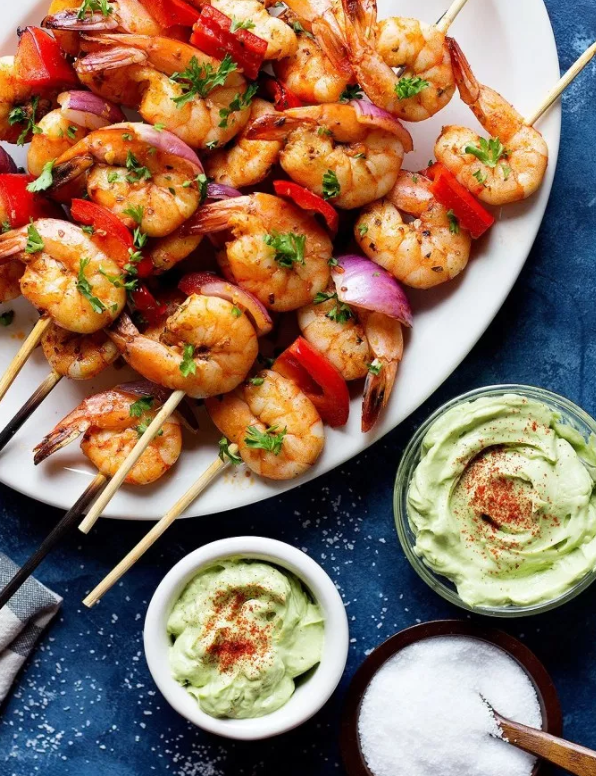 GRILLED SHRIMP KABOBS
I'm always ready for grilling. Not only grilling is known as one of the healthiest ways to cook, but also food from the grill always tastes better. Plus, it can easily turn into an activity for everyone around the house and everyone can be involved in making dinner.
This shrimp kabob recipe is a favorite of mine because of all the flavor in the marinade. The smoked paprika compliments the garlic and, together with lemon juice, they make a great combination with a little bit of acidity for the perfect balance. And, to make it even better, I serve them with a dreamy creamy avocado sauce that nicely complements the shrimp's flavor.
What I love the most about shrimp shish kabobs is that they're ready in no time. Since shrimp is a delicate seafood, you can marinate it for only 20 minutes and start grilling right away. Therefore, you can turn the grill on as the shrimp is being marinated and, once it's hot, start threading the shrimp and grill it right away. However, the oven and stove top will also work for this recipe.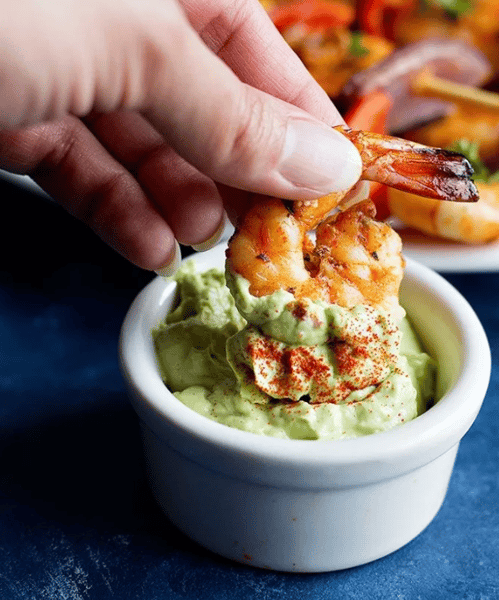 WHAT SIZE SHRIMP DO YOU USE FOR GRILLED SHRIMP SKEWERS?
As shrimp tends to shrink a bit after cooking, I would say the larger the better. Jumbo shrimp is ideal as there are 16-20 shrimp per pound but you can also use a size smaller. Cooking time for shrimp skewers may vary depending on the shrimp size.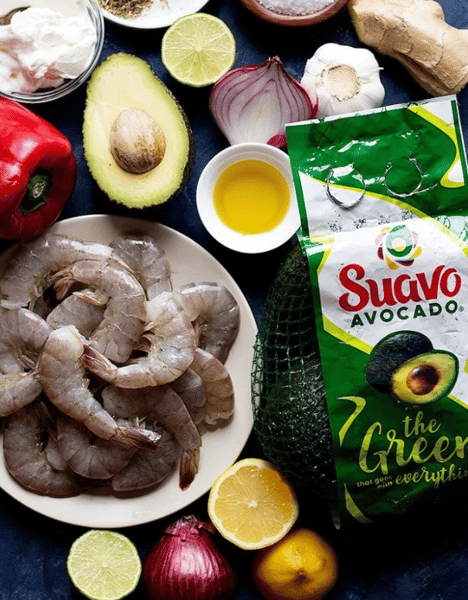 NOTES AND TIPS FOR SHRIMP KABOB RECIPE
Can you grill cooked shrimp? Unfortunately, no. Since the shrimp is precooked, it won't absorb the flavors from the marinade and will become rubbery if grilled.
To make shrimp kabobs with pineapple, leave out the red peppers and onion and use chunks of fresh pineapple instead.
Why is my shrimp kabob dry and rubbery? Shrimp becomes rubbery and hard when it's overcooked. Keep a close eye on the shrimp since it's easy to overcook it.
Keep the ingredients for the avocado sauce refrigerated until you're ready to make it. The sauce is best served cold. Store the leftovers in an airtight container and cover with a plastic wrap so it touches the sauce. Close the lid of the container and refrigerate for up to 48 hours.
For the full recipe and list of ingredients, check out Shadi at Unicorns in the Kitchen!